The great London
England has always been a sporting nation. Sports such as cricket, football, rugby and tennis are all popular in Wayne Rooney's homeland. If you want to experience the unique atmosphere generated around sporting events in England, then a journey to the great city of London is a good offer for a combined sports and city break.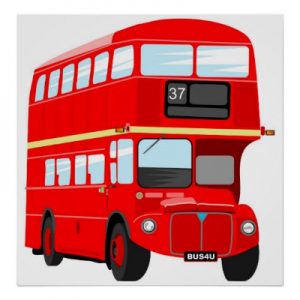 Famous London Bus
Football is a beloved sport among the English people and the football culture in England is marked by a strong sense of community. The country's football fans are often accused of being hooligans. In recent years, this trend has fallen dramatically, and there are good opportunities to enjoy an intense, safe and enjoyable game of football in the UK.
London is home to no less than 13 teams, and several of them are among the best in Europe. The city is also the holder of the most expensive football arena in the world, namely the newly renovated Wembley Stadium, which can accommodate 90,000 fans. If you want to witness a real English football match in London, tickets can be costly, at least if you want to see a battle with the most famous clubs such as Arsenal and Chelsea. A cheaper alternative is clubs like West Ham and Tottenham. It will often be possible to find good hotels in London near the ground you have tickets for, and if you have a football-phobic partner, there is great shopping throughout the city to distract them.
Another sport that is loved by the English is tennis. Each summer, the prestigious Wimbledon tournament, named after the small idyllic suburb of London, takes place. There are good opportunities to obtain tickets for the tournament, which spans two weeks. If you are interested in tennis, one can usefully combine a tennis holiday with a city break, since there are good transport facilities between the centre and Wimbledon. So it is possible to stay at a hotel London and commute to and from the tournament with ease.
London and the surrounding area also offers sports such as cricket and rugby, and a short trip west of the city, you can experience the fashionable Ascot, a horserace with a strict dress code and royal guests. With the Olympics coming soon in 2012 with London as the host city, Londoners are getting more and more excited. In other words, London has something for every sports fan who wants to try the English way of enjoying it. If you wish to travel to London, you may want to find the best hotels in London with affordable pricing and great accommodation. In site hotels in London, you will find the best pricing and facilities.  Have a look at this site and choose your Cheap Hotels in London and explore hotels facilities along with pricing and map.
If you are looking for more information about the sphere of  Luxury London Hotels, please make sure to check out the page which was quoted right in this paragraph.